Hand-warping tool coming soon
March 12th, 2010 by
Jeffrey Warren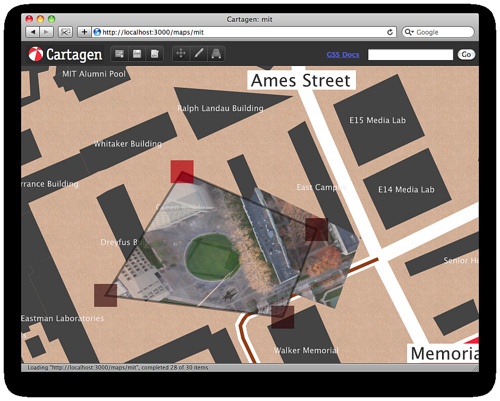 Some of you have seen the above screenshot on Flickr; don't worry, we'll be launching it soon! As some of you may recognize, we're duplicating the 'distort' functionality from Photoshop, similarly to what Michal Migurski suggested last November.
Also, Chris Blow asked about how we're dealing with very large batches of photos… well, yeah, we've used hugin for mass stitching… but it was so much easier to explain to people how the hand-warping interface works (i.e. "it's like the images are made of rubber") to non-technical participants, that for small mapping projects we wanted to use this paradigm.
Also we've been talking to NASA AMES about using their /Vision Workbench software, perhaps as part of a rectifying web service for folks who have large sets. So basically we're pursuing different strategies for bulk/expert use and for novice/small-scale mapping.
From my experience in Lima, using photoshop's distort tool (which works like the above) was actually faster than doing control point generating and stitching with hugin. But we generally only took like 20 photos max; these communities were pretty small.